Bok Bok & L-Vis in XLR8R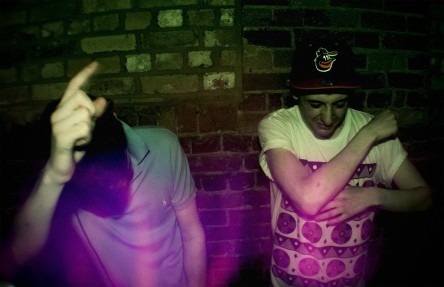 While we were in the US recently, we stopped by the XLR8R office to compare and contrast some US vs UK foods. Check out the little chat show that resulted from it.
The same month XLR8R also ran a feature on us:
LONDON BASSHEADS L-VIS 1990 and BOK BOK SLITHER BETWEEN STYLES WHILE KEEPING IT DECEPTIVELY SIMPLE
At the bottom of the flyer for last October's edition of Night Slugs, the London club night run by Alex "Bok Bok" Sushon and James "L-Vis 1990″ Connolly, it simply states: "house/bass." Compared to the convoluted descriptions you see on most rave handbills and posters—full of buzzwords trying to tempt floating punters inside the door—it's simultaneously simple and all-encompassing, and gives the first clue to the policy of what London's best party is all about.
"It's really all about keeping it simple," Sushon explains. "'House [and] bass' is a simple way to explain exactly what's going on without getting too specific or reductive… I'm hating the new genre toss-off that's happening in the UK right now. Just because a new batch of producers are making tracks doesn't mean they need a new name. It's reductive."
Reductive and, perhaps most vitally, restrictive. The lack of restrictions that the pair places on themselves—a result of their complete lack of elitism ("I hate stigma and purism in music. My aim has always been to obliterate these perceptions, and as seamlessly as possible," says Bok Bok)—is what makes them so strong. London's a city full of trends and hype, and musically that applies more than ever before. Producers are the next big thing before they've released their debut single, and over the hill by the time the tune is on the net. Promoters book the same next big things at the same time, resulting in a capital of identikit club nights.
But trends don't matter at Night Slugs, which is why long after bandwagon jumpers stopped caring about bassline house, Bok Bok and L-Vis booked Rinse FM resident DJ Rekless, and still play tracks by TRC, Screema, and Nastee Boy. While other promoters were booking the same hyped funky DJs in slightly different combinations, these two paired scene queen Cooly G with San Francisco's Christian Martin. "Both play deep, tough, off-the wall house music," explains Sushon. Simple.
Let's backtrack. Sushon, 24, a grime DJ from South London who cut his teeth as a resident at Camberwell's Redstar (a "semi-legendary" pub venue where Skull Juice, Oneman, Ben UFO, and Ramadanman also played some of their first DJ sets) got in touch with Brighton's Connolly, 25, after hearing his first single, "Change the Game," in 2008. At that point, Connolly had been running Fallout, a drum & bass and breakstep night, for several years with locals High Ranking and Mumdance, and had recently started a new night called So Loud!, for which he booked Brooklyn bass king Drop the Lime. ("This was probably the best decision I ever made," Connolly emphasizes. "The party was bananas, but more than that, Luca [Venezia, a.k.a. Drop the Lime] really helped set me on a path to where I am today. The week after the party, I wrote 'Change the Game.' The title signified a shift in my musical style.")
Connolly had also booked Sushon and his girlfriend Manara for a party he was throwing in London, and they immediately hit it off due to their similar tastes. The pair stayed in touch until Connolly officially moved to London, and they decided to make their partnership professional, with L-Vis swiftly denouncing his complex Ableton sets. "My attitude towards music has totally changed since starting Slugs," says Connolly. "I was wanting to do something really grand back then with my DJ sets, incorporating video, etc., but Slugs really brought me back to basics. There's nothing better than the energy of playing bass music with turntables."
Early Night Slugs events took place at the Redstar (guests included D1, Kingdom, and Oneman), but they soon outgrew the venue and made their debut at Shoreditch's East Village late last year, booking Drop the Lime's entire Trouble & Bass crew for an all-night back-toback session.
Night Slugs has grown in stature with almost every event since, thrice taking over London's larger Egg club, and taking the show to Leicester and Brighton. Most recently, Bok Bok and L-Vis embarked on a Stateside tour, sharing bills with Christian Martin, Trouble & Bass, Bersa Discos, Kingdom, and fellow UK upstart Joker.
"I was blown away by how successful it was," confesses Sushon. "Every town repped hard, people actually knew what we were about, and we can't really ask for more. There's a lot of love for the UK vibe in these cities."
"I think in the past, say, 10 years, it would be pretty much unheard of for guys like us to be able to tour the States," says Connolly. "But with the help of the internet, our music can stretch so much further afield." One such example is Diplo, who commissioned Bok Bok and Manara to record a session for the Mad Decent podcast series, and later released L-Vis' "United Groove" single on the label.
The pair's own music has advanced at a similar rate. Their collaborative remix of Crazy Cousinz' "Bongo Jam" gets played out by the king of UK funky, Marcus Nasty, and Glasgow label Dress 2 Sweat (now part of the Numbers label umbrella with Wireblock and Stuff) closed out its discography with a four-track EP of twisted, tribal-house mutants from the duo. Bok Bok's recent remix of Jinder's "Youth Blood" is a synth-soaked cyber-funk epic, while L-Vis' new "Zahonda" single is a taut house banger stationed somewhere between Brackles and Buraka Som Sistema.
"I'm so excited about producing music right now," Connolly proclaims. "There are so many amazing artists in our scene, everyone is just bouncing off each other. I think for the first time ever I'm looking at the producers around me for inspiration. I'm constantly looking forward."
"My ears get tired of hearing the same thing," Sushon adds. "Inspired by a Dexplicit quote, I try to bring the sweet with the sour, a kind of grime euphoria. I guess years of the dominance of greyness in post-UK garage music has left me and a lot of others hungry for color, and 2009 was really the year of feeding that hunger. It's been the year of the neon synths!"
So the next step? Night Slugs the label, obviously. "That's just a natural progression for us," explains Connolly. "Over the last 18 months, Slugs has slowly been picking up a crew of really great producers [including Mosca, Greena, Jam City, Egyptrixx, and Kingdom], building tracks in a similar context to myself and Alex. It's happened really naturally; it feels organic."
Sushon continues: "This is Night Slugs coming of age. Our aim with it is to crystallize the spectrum of music we've been repping at our club nights, and to give a home and some stability to this new sound that's emerging out of the mish-mash. We want to document what's going on around us through releases that will hopefully feel timeless." He rightfully points out that the first single, the brilliant "Square One" by Mosca, "pretty much nails down this whole crossover; a house track swallowed up by the UK soundsystem portal." There's the rub: Night Slugs is seeped in British dance culture but casts an eye abroad that allows it to break down barriers before they're even established.
words: Tom Lea