MTV Hive: Defining a sound without a name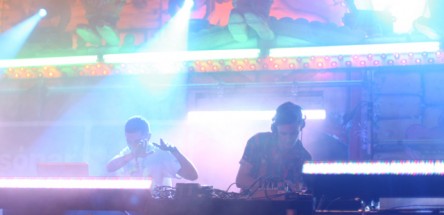 The original version of this article can be found here.
Words by Julianne Escobedo Shepherd
"Last year, around the time James Blake was still a nuclear-beatmaking zygote, the British music press became fixated on genre names that implied some unknowable point in time. Suddenly everything was "post-" or "future" — Blake was "post-dubstep," Falty DL was "future garage" – an amorphous shorthand for tunes that didn't fall into neat boxes. As with most British electronic dance music since the '90s rave days, the climate was fickle: In the UK, it's always on to the next one, new scenes and styles supplanting those before them with jaded quickness. Yet over the past year, even with a glut of producers unleashing their own versions of what UK garage might sound like in 2032, the British scene has had an uncharacteristically stagnant year of new sounds. New mutations of bass music took hold and wouldn't let go, which was just fine for us subwoofer devotees, but there were fewer people paving new paths to evolution than before. There were many biters, and many musicians chasing their own tails. Claiming the future is right now, it seemed, was an effective way to make time stop.
There was one consistent beacon, though: Night Slugs, which fundamentally bucked the bass trends it helped start and dripped a cache of classics that tend to transcend time markers. Only in its second year, the young label run by London-based DJ/producers Bok Bok and L-Vis 1990 has topped its 2010 (which included the gargantuan, genre-crossing Girl Unit single "Wut") — thanks to painstaking curation that eliminated the fat. Bok Bok, who calls the Night Slugs philosophy "bespoke," says that though they're deeply immersed in the scene — they hit Rinse FM regularly and throw massive parties that predate the label — they try to separate themselves from the de rigueur and channel their instincts, drawing inspiration from the tight circle of friends. "There's no such thing as 'retro' music or 'future' music, it's one and the same," he says. "It's those wormhole connections between different places, scenes, styles that interest us most."
This year, they hit on that harder than ever: L-Vis dropped Neon Dreams (PRM Records), a roiling, love-themed album that expresses his fealtiness to Detroit techno as much as his girl. Bok Bok's incredible Southside EP reached down into his roots and pulled out unstrained UK garage madness ("Reminder") and one of the nastiest grime-ready beats of the year, "Silo Pass," whose silvery synth bonked along a cowbell and tested the eardrum's capacity for low-end. In a year where the U.S. was inundated with five-year-old dubstep sounds from frat thugs and the UK produced a depressing amount of rote "future bass" tracks tossed off on Soundcloud, the return to form was refreshing.
It was also, to some, confusing. This was the year of "future" bass and garage, as popularity goes, but Night Slugs had already been through those syncopated patters and altered subwoofers — indeed, they helped invent their current incarnations. For some, the classicism and open Detroit reverence of L-Vis' Neon Dreams didn't register, as though someone had dropped Derrick May's "Strings of Life" in the middle of a DeadMau5 party. The ears build up immunity too, it seems. But similarly, there's nothing else out like Neon Dreams right now. "I was just trying to concentrate on my vision of what it was going to be," says L-Vis over tea, wearing an uncharacteristically toned-down shirt. "I made the album I've been wanting to make ever since I was 15 and started DJing." But because it wasn't easily recognizable within the context of what is presently popular, it was relatively slept on.
As with past Night Slugs releases, let's see where it's at next year. The label's first-ever release, Mosca's "Square One," dropped in January 2010, while underground dance music was still grappling with funky house and dubstep's future. "Square One" was a minimal yet mind-boggling patchwork of a track that pulled in a little UK funky drum clatter, leaned on acid house instincts, churned in a tiny diva vocal snippet, and paraphrased Cybotron's "Clear." Wot do you call it, amirite? Right: ironically, "Square One" ended up shaping the mold for what was since dubbed "future bass." Despite best efforts, no one replicated "Square One," but the song established Night Slugs as a label that's ahead of most. They stayed in that zone with their next few releases from Egyptrixx, Lil Silva, Kingdom, and more, adhering to loose concepts of garage and house with distinct individual flavors. Then, in October 2010, Girl Unit's "Wut" — the second song he ever wrote (!!!) — exploded the dance scene and registered as an instant classic, a nasty, deceptively simple track with dubstep bpm (140), candied synths, and triple time beats worthy of any Dirty South rider. It was London gone Houston, in a way, and it catapulted Night Slugs into the consciousness of non-dance nerds everywhere. "Wut" also exemplified the Night Slugs' 21st Century philosophy, that of cross-cultural exchange wrought by open-source ideas. "People like to talk about how the US influences the UK and vice versa, but it's so much more complex than garage>grime>dubstep>current day," says Bok Bok, over gChat. "Like how A Guy Called Gerald popped off in Detroit and he's from Manchester … or how UK Garage was born out of Todd Edwards and MK's ideas. It's a story that's been running longer than people like to talk about. I think we are the present-day reinvention of that process, with all of the interconnectedness of our times."
Necessarily global, Night Slugs' openness is also part of its success. They share ideas with their LA-based sister label, Fade to Mind, run by Kingdom and Prince William, and hop on tracks with Sound Pelligrino's French masterminds Teki Latex and Para One. Neon Dreams was heavily assisted by Nick Hook of New York band Cubic Zirconia (who also produced one of Night Slugs' best-ever B-sides, a vocal remix of Egyptrixx's "The Only Way Up"). Bok Bok's most recent release is a collaboration with Amsterdam's Tom Trago, which not only samples a heavily vocoded vocal from a Teki Latex/Para One remix of a Canblaster song, but pops in a twerky reference to Cajmere's house classic "Percolator." Welcome to the Matrix!
A couple weeks back, at the Brooklyn Electronic Festival, a Fade to Mind showcase exhibited this friend-based cross-pollination. Headlined by Girl Unit, who had flown in to New York mere hours after playing a dawn-cracking Night Slugs rave in London, the line-up was stylistically different but bound by heart. Nguzunguzu, the L.A.-based duo pulling arcane tropical into seamless bass, stayed on the low end of the spectrum, while boss Kingdom exhibited his ever-impressive finesse through funky house and classy syncopation. Girl Unit closed out the show by linking his own "Wut" hit to Kelly Rowland's "Motivation," perhaps exhibiting where his influence most lies. But it was the DJ Total Freedom who really brought the glue: blending vogue house's "ha" beat hits with the speedy, pre-Hispanic rave rhythms of tribal guarachero, he was transcending time, space, and culture, and building an ear-bending, mind-expansive concept that was utterly new. And if anything's better than the future, it's the promise of what will be born there. Night Slugs is just opening the door. Or, as Bok Bok puts it: "Making each other go WTF might be a big driving force."